MUG for region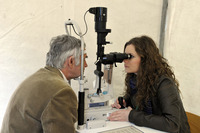 The annual MUG Health Picnic is a popular event among the Tricity residents
The Medical Science Day is part of the annual Baltic Science Festival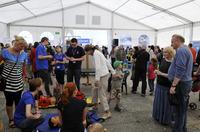 The Science Picnic in Gdynia during the Baltic Science Festival
Aside from performing its main task, i.e. educating highly qualified medical staff and doing socially useful scientific research, the Medical University of Gdańsk provides health care for Pomeranians and inhabitants of neighboring regions, as the founder of clinical hospitals and other health-care facilities that offer unique, highly specialized medical services.
Our University supports local and state authorities with its knowledge and experience, actively participating in expert work for public authorities. An example of this is the involvement of the MUG in the Health for Pomeranians Programme, which aims at health improvement for the inhabitants of our region. The University is actively involved in work on the Strategy of Pomeranian Voivodship Development, Regional Innovation Strategy and the Pomeranian Voivodship Regional Operational Programme.
Our college's activities for the sake of the society are expressed by organizing initiatives aimed at the spreading of knowledge of preventive treatment and a healthy lifestyle, e.g. Good Health Picnic (Piknik na Zdrowie) and the implementation of well-known prophylaxis programmes, e.g. The 400 Cities Programme. The University actively participates in the Baltic Science Festival, which clarifies the subject of undergoing scientific research and shows the public the importance of laboratory research.