Campus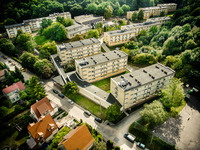 The MUG Campus also has four dormitories, student club "Medyk", a grocery store and copy shop
The MUG student campus is situated on Dębowa Street, within walking distance of the main building – Collegium Biomedicum and the Main Library and other University buildings. Such a location helps students to arrive punctually at their classes. At the same time, the campus is located outside the busy and noisy city centre of Gdańsk.
The campus consists of four dormitories for 1000 students, the student club "Medyk", a grocery shop and a photocopy shop. It is the location of the headquarters of the Student Government. There is also a canteen, which offers meals at student-friendly prices. All the dormitories are connected to the Internet.
After their hard work, students may relax in the club "Medyk", which is open from Tuesday to Saturday.
"Medyk" is also a traditional place for annual initiation ceremonies, as well as for the events of "Medykalia" – Days of Culture and Science for MUG Students, in May, when the whole campus is completely packed. Medykalia, celebrated annually by the Medical University, consists of numerous concerts and fun sports events, like 'hospital bed races' and 'white coat parties', which attract not only medical students to Dębowa Street.