Prof. Piotr Czauderna, Head of Chair & Clinic of Surgery and Urology for Children and Adolescents #MUG, has been appointed coordinator of the Section of Health Protection of the National Development Council under the President of the Republic of Poland. more »
On the 4th of April 2016 we will find out who will be the new Rector of our University. The Senate of MUG approved the Election Code, including constituencies and election schedule at the Senate Session held on the 25th of January 2016. more »
More than 200 people from Poland, representatives of Polish universities and several continents as well as experts in the topic of internationalization of higher education, participated in the conference "International students in Poland 2016". Meeting took place on 21st-22nd of January 2016 in the Medical University of Gdańsk. more »
Prof. Jacek Jassem, head of the MUG Department of Oncology and Radiotherapy is on the second place in the "Lista Stu" ("List of 100"), category of Medicine. Leaders of Polish medicine were selected for the 13th time. At the top of the list is prof. Henryk Skarżyński and minister Konstanty Radziwiłł. Experts from the "Puls Medycyny" analyzed the achievements in treatment, introducing groundbreaking procedures and technology, establishing new directions for the development of Polish medicine as well as the influence on the legislative, organizational and functional changes in the healthcare system. The ceremony took place on January 18th at the Bristol Hotel in Warsaw.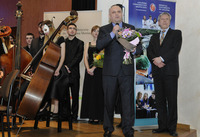 Over 400 listeners enjoyed the MUG New Year Concert that took place on January 16th 2016 at the Academy of Music in Gdańsk. We could listen solists as: Łukasz Szajewski (clarinet), Michał Dębek (basset horn), Katarzyna Goliat (violin), Jan Lewandowski (violoncello), Wojciech Ulanowski (accordion) and Mikołaj Dudkiewicz (guitar). All artists were accompanied by the Symphonic Orchestra of the Academy of Music in Gdańsk, conducted by Zygmunt Rychert.
Prof. Janusz Moryś, rector of the Medical University of Gdańsk and prof. Maciej Sobczak, rector of the Academy of Music in Gdansk concluded the event by thanking the musicians and giving them bouquets of flowers. more »
"Medical Department of Stefan Batory University in Vilnius and its importance for the creation of the Medical University of Gdańsk" this is the title of the lecture of prof. Wiesław Makarewicz. Lecture will be part XCI of the Baltic Festival of Science. The meeting will take place on 28 January at 6 p.m., in Hotel Rezydent in Sopocie. Admission is free. more »
Prof. Tomasz Zdrojewski, head of the Department of Preventive Medicine and Didactics, was elected chairman of the Public Health Committee of the Polish Academy of Sciences a new four-year term in 2015-2019. Members of the Committee by secret ballot made an unanimous choice. more »
Chair & Clinic of Paediatric Cardiology and Congenital Heart Defects got GE echocardiography Vivid E95, first such equipment in Poland. It was made possible by the Directorate of the University Clinical Center and the support of Polkard. more »
Prof. Peter Szefer was elected to the Committee of Analytical Chemistry of the Polish Academy of Sciences 4-year term (2015-2019). Professor works for the Committee for almost 25 years. At the same time, once again he became the chairman of the national Food Analytics Team in this committee.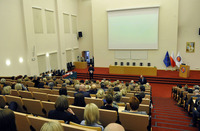 "Are we in danger of the epidemic of chronic kidney disease in the population of the elderly?" – This is the title of the lecture prof. Boleslaw Rutkowski, winner of the Minister of Health for lifetime achievement in the field of science. The celebration took place on Tuesday, December 15th and also included the presentation of medals and state decorations to MUG employees as well as awards for research, didactic and organizational achievements in the 2014. more »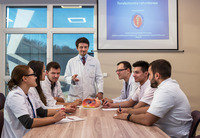 fot. Adam Bogdan
The MUG students and doctors for the second time took part in a photo session promoting our University. The models were: Karolina Derda with her son Tymek, dr Zbigniew Heleniak, dr Tomasz Marjański, Paweł Michalski, Piotr Osman, Monika Raczkowska-Golanko, Kamil Siedlecki, Adam Sobieraj, Amanda Sobolewska, Dorota Sobolewska, Jan Stefaniak, Karolina Szaruta-Raflesz, Adam Szewczyk, Radosław Trzciński and Kacper Winiarski. Behind the camera stood dr Adam Bogdan from the Department of Biology and Pharmaceutical Botany. The pictures will be published in new promotional materials of our University. more »
The English Division Pediatric Oncology Scientific Circle acting through Chair & Clinics of Paediatrics, Haemathology & Oncology supervised by Ewa Bień MD, PhD and Małgorzata Krawczyk, MD distinction in the finals of the nationwide competition StRuNa 2015 in categories: Best Scientific Circle 2015 and Keepers of the Year 2015. more »
Last update: 12.02.2016, 13:10